LGSD Summer Camp News! 1) Required permission forms for LGSD summer camps. Be certain to provide yours to the LGSD staff member greeting you on the first day of camp. Form:
https://5il.co/tb97
and 2) Wait lists for summer camps. An update is provided here:
https://5il.co/tb98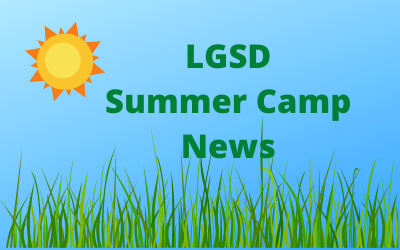 "Kindergarten is such an essential point in a child's social, emotional, and cognitive development. Certainly, our teachers focus on exposing students to foundational literacy and numeracy skills, but above all else we want students to feel excited about learning, to interact with other children, and to understand how to participate as a part of a school community." - Ryan Westenskow, Principal, Greenwood Elementary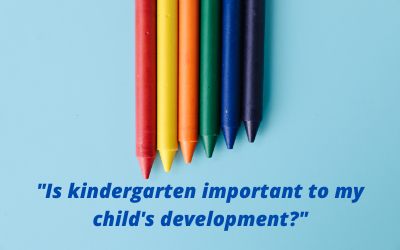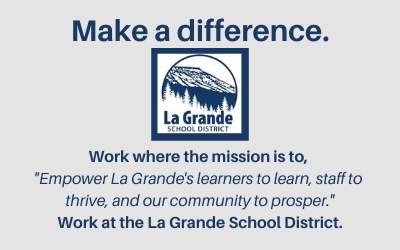 La Grande School District Town Hall Meeting - April 1, 2021 View on LGSD.TV or La Grande School District Facebook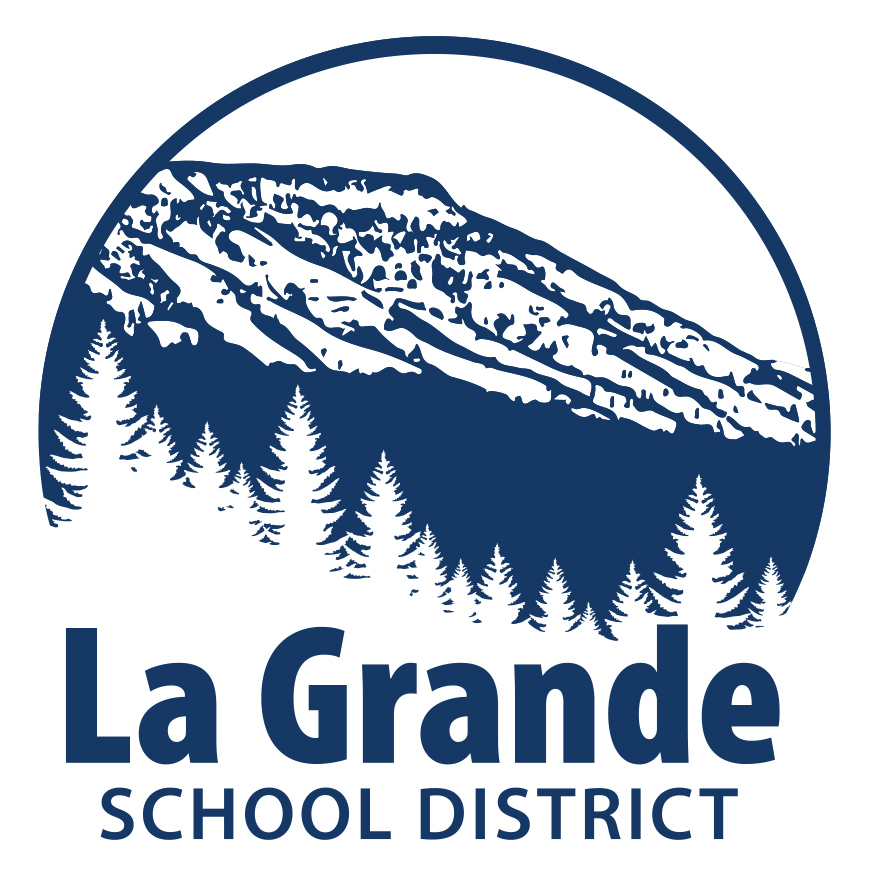 Island City Families, Monday, January 25th is a teacher work day. There is no school for students. Tuesday, January 26th is a parent/teacher conference day. If you need to meet with your student's teacher they have or will contact you. There is no school for students. We'll see everyone for a new semester on Wednesday, January 27th! Have a great weekend! Familias de Island City, El lunes 25 de enero es un día de trabajo para maestros. No hay escuela para estudiantes. El martes 26 de enero es un día de conferencias de padres y maestros. Si necesita reunirse con el maestro de su estudiante, ellos se comunicaban con usted o se comunicarán con usted. No hay escuela para estudiantes. ¡Nos veremos a todos por un nuevo semestre el miércoles 27 de enero! ¡Ten un excelente fin de semana!

LGSD Virtual Town Hall Tonight at 6:00 pm Join via LGSD.TV or La Grande School District Facebook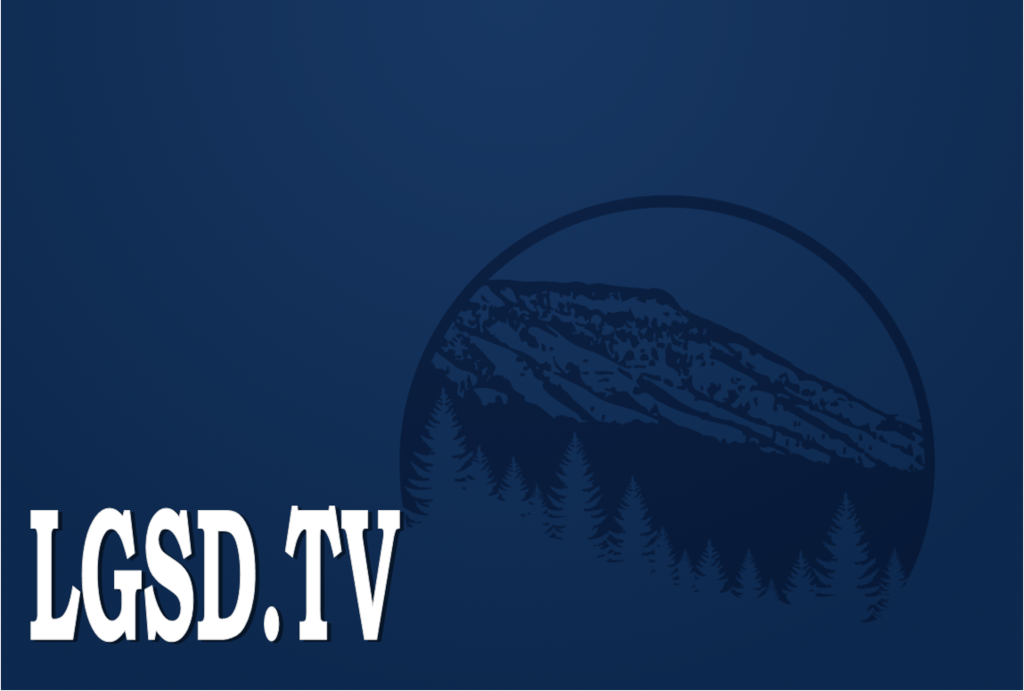 Tonight! Connect via La Grande School District's Facebook page or via LGSD.tv.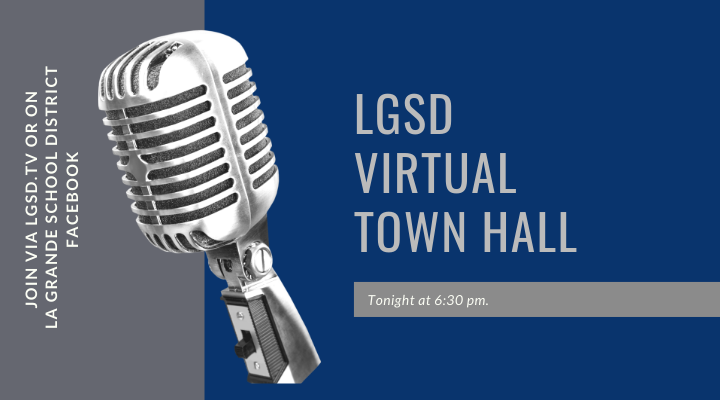 Please join us for our virtual town hall via LGSD.tv or our La Grande School District Facebook page. Questions may be submitted to
reopening@lagrandesd.org
by the morning of January 21. We will look for common themes in questions and answer those at the town hall.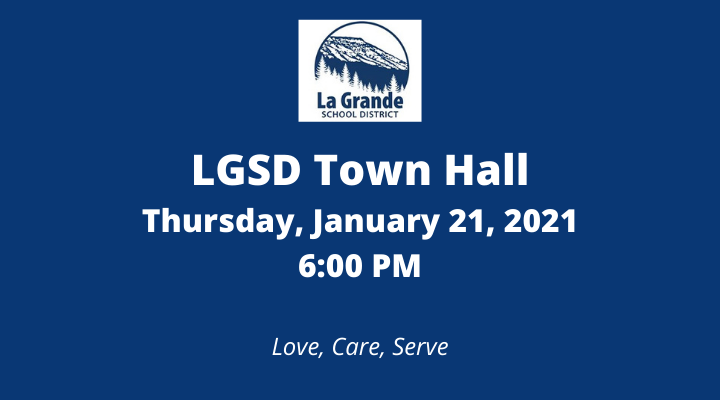 Eastern Oregon Head Start is Now Enrolling!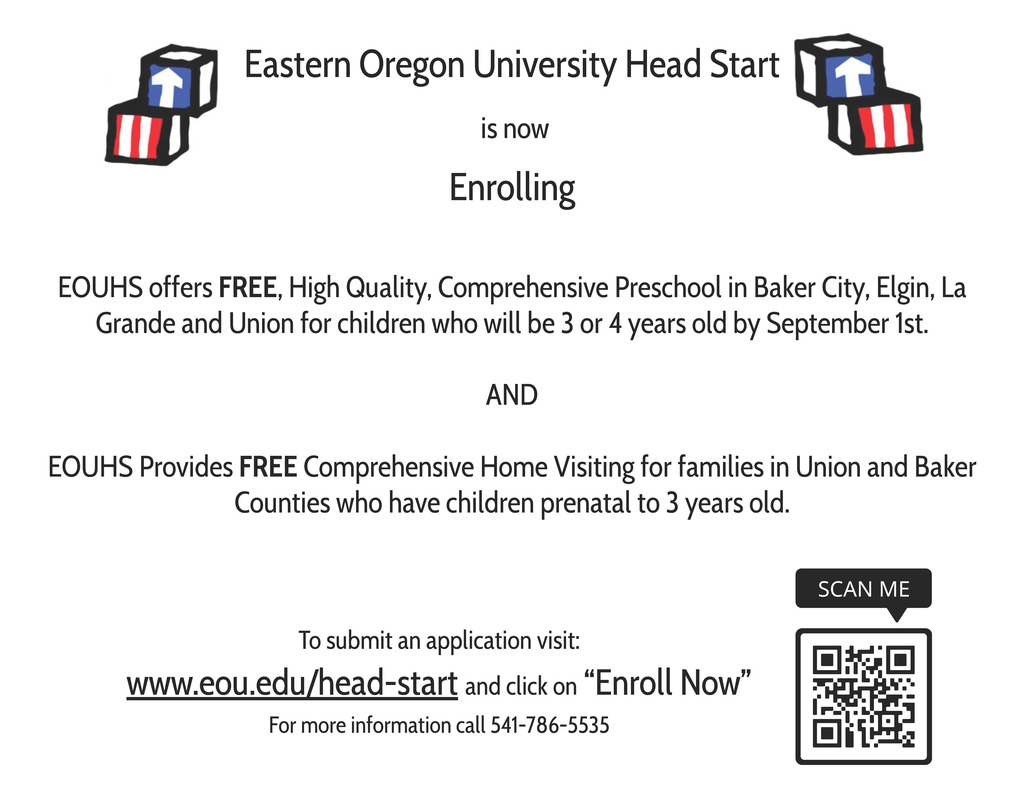 Island City Families, Thank you for a great first three days of school! I wanted to say thank you for your diligence with face coverings at drop off and pick up. Thank you for all your efforts to be cautious, we are doing a great job! Arrival reminder- We are shooting for the 7:50-8:00 window for drop off. If students arrive after 8:05 we'll have them check in the front doors in the office. Thank you for your help here. Here are a couple reminders of dates coming up. January 18th-No School -MLK Holiday January 25th- No School-Teacher work day January 26th-No School-Parent Teacher conferences (virtual) Familias de Island City, ¡Gracias por unos excelentes primeros tres días de clases! Quería agradecerles por su diligencia con cubrirse la cara al dejar y recoger. Gracias por todos sus esfuerzos para ser cautelosos, ¡estamos haciendo un gran trabajo! Recordatorio de llegada: estamos intentando a tener los estudiantes entre 7:50-8: 00 para dejar. Si los estudiantes llegan después de las 8:05, les pediremos que se registren en la puerta principal de la oficina. Gracias por tu ayuda aquí. Aquí hay un par de recordatorios de fechas próximas. 18 de enero-No hay clases -MLK feriado 25 de enero: no hay día de trabajo entre maestros y escuela 26 de enero: conferencias de padres y maestros sin clases (virtual)

Island City Families, We are excited for our K-5 return in person on January 11th. We will be in school from 8-1 Monday through Friday. Please follow the link to our calendar and video for information on the return.
https://ice.lagrandesd.org/o/ices/page/on-site-learning-k-5
We are encouraging families to self transport their students. If you have a transportation need, please contact Mid Columbia at 541-963-6119. Please review the messages and we will see you Monday! Familias de Island City, Estamos emocionados por nuestro regreso de K-5 en persona el 11 de enero. Estaremos en la escuela de 8 a 1 de lunes a viernes. Siga el enlace a nuestro calendario y video para obtener información sobre el regreso a la escuela.
https://ice.lagrandesd.org/o/ices/page/on-site-learning-k-5
Alentamos a las familias a que transporten a sus estudiantes por sí mismos. Si necesita transporte, comuníquese con Mid Columbia al 541-963-6119. Favor de repasar la informacion y nos vemos el lunes!

School is back in session on Monday, January 4th with all grades in Comprehensive Distance Learning. Grades K-6 will be on-site, starting January 11th. We have the potential to have grades 7-12 on-site on January 27.

January 4-8 - ALL Students in Comprehensive Distance Learning January 11 - Grades K-6 back On-Site! January 27 - Grades 7-12 MAY return to On-Site Learning.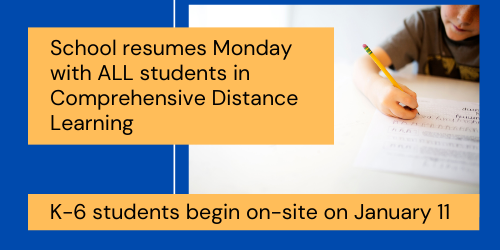 LGSD will remain in Comprehensive Distance Learning with restricted Limited In-Person Instruction as we enter into our Winter Break period. Current data for Union County for (11/22/20 - 12/5/2020): Absolute case count: 156 Positivity Rate: 12.9%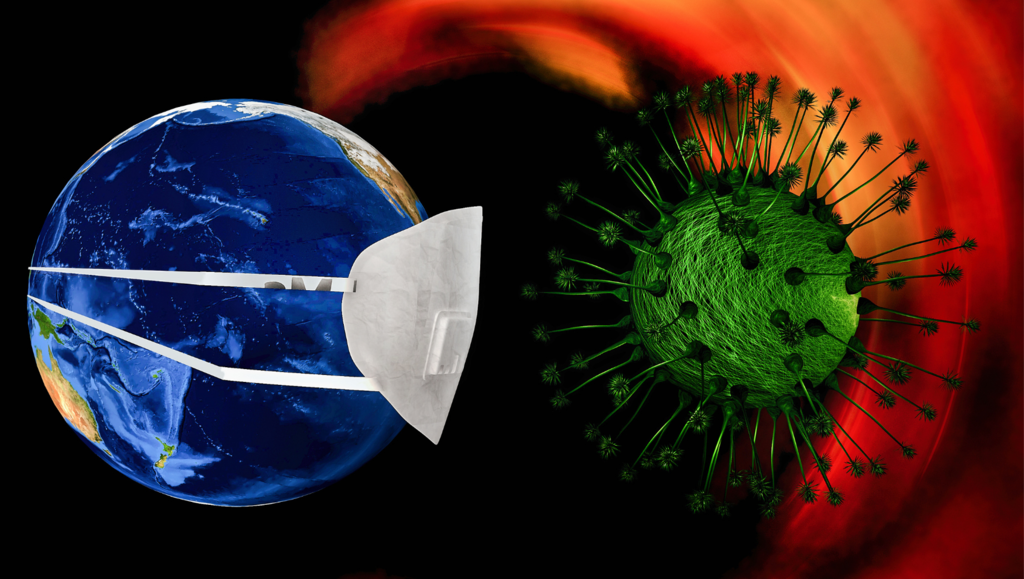 Island City families, 1) We have our annual Poinsettia fundraiser through our PTO TODAY! We will be here from 12 noon until 7pm or when plants are sold out. Please share with friend and family that it's going on at the school today. First come first serve. Call or text 541-910-1229 for information. 2) We are holding our canned food drive for members of our school and local community through December 16th. There are boxes outside of the school, marked by teacher so your student can donate. We are making a class competition and the winner gets a visit from a special visitor during their zoom class on the Friday before Christmas break. Thank you for your continued support! Familias de Island City, 1) ¡Tenemos nuestra recaudación de fondos anual de Poinsettia a través de nuestro PTO HOY! Estaremos aquí desde las 12 del mediodía hasta las 7 de la tarde o cuando se agoten las plantas. Por favor, comparta con amigos y familiares que está sucediendo en la escuela hoy. Se le sirve en orden de llegada. Llame o envíe un mensaje de texto al 541-910-1229 para obtener información. 2) Estamos llevando a cabo nuestra colecta de comida enlatada para miembros de nuestra escuela y comunidad local hasta el 16 de diciembre. Hay cajas fuera de la escuela, marcadas por el maestro para que su estudiante pueda donar. Estamos haciendo una competencia de clases y el ganador recibe la visita de un visitante especial durante su clase de zoom el viernes antes de las vacaciones de Navidad. ¡Gracias por su continuo apoyo!

Island city families, Reminders on dates coming up. 1. December 3rd is our annual PTO Poinsettia sale from 12pm-7pm at the school. Plants are available on first come and first serve basis. Entrance will be at the main doors. We will serve one person at a time, accepting check, cash and cards. We will have signage for social distancing and face coverings are required. 2. December 4th is a professional development day for teachers. No school for kids. 3. December 18th is our last day of school before Christmas Break. As we get updates on metrics and school changes we will update you as quickly as we can. Familias de Island City, Recordatorios sobre fechas próximas. 1. El 3 de diciembre es nuestra venta anual de PTO Poinsettia de 12 pm a 7 pm en la escuela. Las plantas están disponibles por orden de llegada. La entrada será por las puertas principales. Atendemos a una persona a la vez, aceptando cheques, efectivo y tarjetas. Tendremos distanciamiento social y se requieren cubiertas faciales. 2. El 4 de diciembre es un día de desarrollo profesional para los maestros. No hay escuela para niños. 3. El 18 de diciembre es nuestro último día de clases antes de las vacaciones de Navidad. A medida que recibamos actualizaciones sobre métricas y cambios escolares, lo actualizaremos lo más rápido posible.

The La Grande School District currently has openings for a Para I at Greenwood Elementary and a Para II at La Grande High School. Please see our Employment Opportunities page on our website at lagrandesd.org.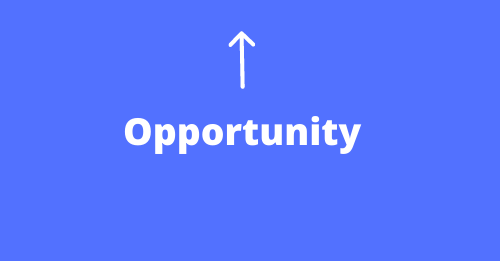 Island city families, Here are a couple reminders. Tomorrow 11/18 is material pick up from 9am-3pm at Island City Elementary. We will have the front doors open after hours as a self serve pick up option. Please come to the school, use face coverings, social distance and get materials for your student. Everyday we have free meals available for children 0-18. Children need not be present for the meals to be picked up. We'd like to encourage you to take advantage of this opportunity as it benefits the school as well as the kids. Those are available from 11:30-1pm daily. Thank you for your continued effort and support! Familias de Island City, Aquí hay un par de recordatorios. Mañana 11/18 se recogerá material de 9 am a 3 pm en Island City Elementary. Tendremos las puertas de entrada abiertas después de horas como una opción de autoservicio de recogida. Por favor, venga a la escuela, use cubrimientos faciales, distancia social y obtenga materiales para su estudiante. Todos los días tenemos comidas gratuitas disponibles para niños de 0 a 18 años. Los niños no necesitan estar presentes para recoger las comidas. Nos gustaría animarle a que aproveche esta oportunidad, ya que beneficia tanto a la escuela como a los niños. Están disponibles todos los días de 11:30 a la 1:00. ¡Gracias por su continuo esfuerzo y apoyo!

As colder weather approaches, LGSD will use the following methods to communicate school closures or delays: Phone - monitor your for a call or text La Grande School District Website - updates will be posted to the District website Facebook/Twitter - updates posted to District social media La Grande SD - the new App on Thrillshare Radio Announcements Please visit the following link for more information:
https://www.lagrandesd.org/page/inclement-weather-school-delay-closure-information

LGSD K-3 will Transition to Comprehensive Distance Learning (CDL) starting November 16th due to current Metric Indicators and Local Data. Please visit the following for more information:
https://www.lagrandesd.org/article/345786